PRODUCTS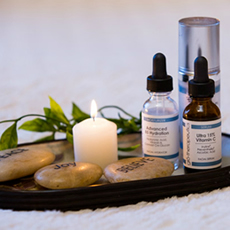 Glo-therapeutics Skin Care
We are dedicated to providing our customers with what we call revealing beauty. Our cosmetics are award-winning mineral formulations that nurture, protect and heal the skin while providing flawless coverage and fabulous color palettes. We use only pharmaceutical-grade ingredients and are entirely talc-free.

Our skincare products are advanced formulations that work systematically to support skin health and treat skin concerns. Our full range of cleansers, toners, moisturizers, serums and specialty treatment formulations are based on established research and cutting-edge science. Our makeup collections uphold the same integrity of ingredients and performance that our skin care collections do. All of our lines are uniquely formulated for skin care and beauty.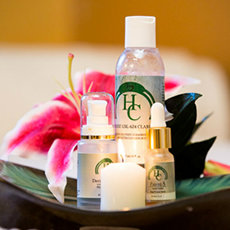 Hale Cosmeceuticals
Hale Cosmeceuticals has been developing outstanding skin care products for more than twenty years. From the latest in vitamin therapies to neuropeptides, probiotics, hyaluronic acid, and idebenone, our products give you the most up-to-date and effective beauty products available on the marketplace. Hale Cosmeceuticals' beauty products are used by many well-known dermatologists, plastic surgeons, salons, and spas.

Vitamin C skin care is just one area in which Hale Cosmeceuticals utilizes advanced technologies to bring you some of the best skin care products available today. When it comes to healthy skin, there are three things you need to know: keratinocytes, melanocytes, and fibroplasts. These are the three types of skin cells that are responsible for maintaining skin function. Hale Cosmeceuticals offers beauty products that specifically target each of these types of cells to optimize healthy, regular skin renewal and regeneration.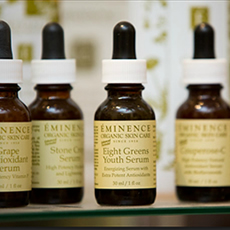 Eminence Organic Skin Care
Take a trip to Hungary and treat your senses and your skin to an exotic all natural skin care line that brings together high quality Hungarian ingredients with old world knowledge of herbs and fruits. Eminence addresses a variety of skin care concerns such as premature aging and wrinkling, sun damage, climate change, acne, loss of vitality, tone, and radiance.

The cures come from nature with ingredients that are good enough to eat. Let the natural aromas treat your senses and the ingredients impart health and beauty to your skin. Come and experience what Hungarian beauties and celebrities of all ages have known for over half a century - you can have beautiful skin and keep beautiful skin by having regular facials, maintaining a healthy diet and by using natural organic skin care.